Are you looking for a bag that features both fashion and function? Baggallini handbags are the way to go! Baggallini was started in 1995 by two flight attendants who have infused their bag designs with creative, helpful, versatile options. To make these bags even better, they are either washable or protected against bacteria.
This bag line is built for all kinds of adventures, tasks, and events throughout life. From handbags to satchels to cross-body bags, there's a Baggallini bag that will fit your personal needs and preferences. Choose from an assortment of colors and patterns, too. All of the Baggallina bags are outfitted with RFID technology.
Now that you're dreaming of owning your own Baggallinni handbag, you're probably wanting to get your hands on one as soon as possible. We created a list of 14 gorgeous Baggallini handbags that you absolutely need to check out! So, let's get to it.
1. Slim Crossbody Hobo Bag
This crossbody hobo bag is stylish and slouchy with a roomy interior. The interior houses lots of compartments for fitting all of your essentials. The lightweight construction makes it easy to carry around wherever your day may take you. The exterior has a durable, water-resistant construction.
The hobo bag features a 52-inch adjustable strap, so it can fit across your body in a customized configuration. It measures 12 inches across and 7.25 inches high.
Click here to see more on Amazon.
2. Horizon Crossbody
The Luau print gives it a unique, lively tropical aesthetic. The nylon is lightweight and water-resistant. You'll be amazed by all the pockets in it. It even comes with a removable wristlet that can easily be tucked into the bag when you're not using it.
The crossbody bag has a 52-inch adjustable strap that allows you to work hands-free.
Click here to see more on Amazon.
3. East West Tote
A tote bag is an excellent large bag to carry with you. The exterior of this chick black tote is made from crinkly nylon and has a smooth polyester interior. It has a zipper enclosure to keep the contents from spilling out.
The tote bag measures 15 inches across and 10.5 inches tall. It has 3 large pocket compartments on the inside designed for lots of storage. There's even a luggage handle sleeve for added versatility.
Click here to see more on Amazon.
4. Small Zip Crossbody
Make a bold statement with this jungle canopy-patterned small zip crossbody bag. The exterior is crafted from durable nylon while the interior is made from polyester. The nylon is lightweight and water-resistant. Organize your bag with ease with the multifunction interior and exterior pockets.
Click here to see more on Amazon.
5. Avenue Tote Top Handle Bag
Candy Apple Red is a captivating color for a tote bag. This tote is incredibly versatile, fit for travel or everyday use. There's a helpful pocket where you can slip it over a luggage handle. You can fit all kinds of items in the many pockets and there's even a padded pocket in this tote to keep your laptop safe.
It measures 15.25 inches across and 12 inches tall while the strap measures 57.75 inches long.
Click here to see more on Amazon.
6. Metro Backpack
Sporty and chic, the metro backpack makes a statement. It features a top carrying handle as well as adjustable shoulder straps. The bottom is flat, making it easy to set down anywhere. Its interior has a zippered pocket on the back as well as slip pockets throughout.
Click here to see more on Amazon.
7. Securtex Anti-Theft Slim Crossbody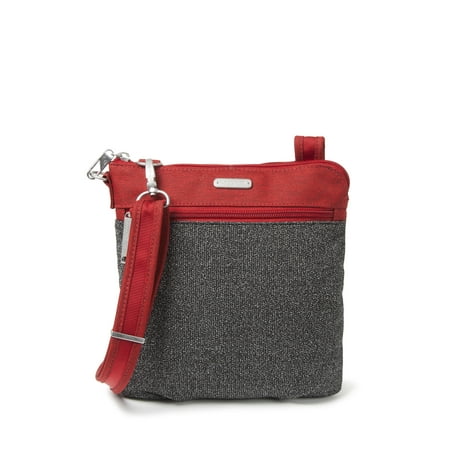 This slim crossbody bag is the traveler's or busy body's dream. Its crossbody design makes it easy to keep your hands free while carrying your bag closeby. It features slash-resistant, anti-theft fabric and locking zippers. This bag may be small, but it's also mighty.
The ruby red and heather gray color combination make this crossbody bag an excellent choice for accenting your outfit.
Click here to see more on Walmart.com.
8. New Classic Convertible Backpack
This bag can be carried in all kinds of ways. It has 2 top carrying handles and a detachable crossbody strap that can be converted into shoulder straps to be carried like a backpack. The exterior and interior both feature both zipper and slip pockets. The bag also comes with a small wristlet. It's all crafted from lightweight, water-resistant nylon.
Click here to see more on Amazon.
9. Abstract Bloom Handbag
This small bloom handbag is ideal for short travels or if you don't like carrying much with you. It has a rather small interior but features many pockets and card slots for your convenience. It can be carried crossbody or as a wristlet.
Click here to see more on Amazon.
10. Charlotte Crossbody Bag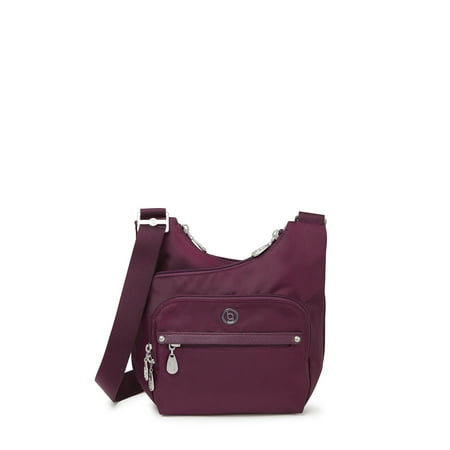 Wear this crossbody bag any way you want; it has an adjustable strap that can be fitted to your preferred length. Its polyester fabric composition is lightweight and water-resistant. There are lots of zippered pouches to ensure safe-keeping. The exterior even has an easy-access phone pocket. Be ready to step out in style when you add this crossbody bag to your closet.
Click here to see more on Walmart.com.
11. Plaza Mini
Mini bags are adorable and the perfect accessory for any outfit. The mini plaza bag has one main pocket with a few small zippered pouches inside. It's made from lightweight and water-resistant nylon. There's an easy-access phone pocket on the exterior. There's also a removable wrist strap.
Click here to see more on Amazon.
12. Helsinki Bagg
The Helsinki bag is such a stylish option. It has a classic, modern shape and features a twist-to-lock clasp, which secures it without sacrificing style. The hardware has a gold finish, making it look very sophisticated. Its 52-inch strap is adjustable, too.
It has one main interior pocket with additional smaller interior pockets. A small wristlet is included. The bag measures 13 inches across and 11 inches tall.
Click here to see more on Amazon.
13. Clear Event Compliant Tote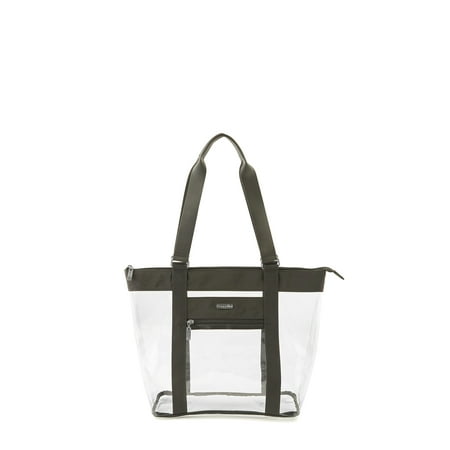 This clear tote bag is essential for events that have bag policies. Since it's clear, it is very event compliant. So if you need an event compliant bag, you may as well get a cute one like this tote! It stands at 11 inches tall and is lightweight and water-resistant.
Click here to see more on Walmart.com.
14. Melbourne Crossbody Bag
If you're looking for a chic crossbody bag to carry in the daytime or evening, the Melbourne is an excellent option. This bag features gold-tone hardware, an adjustable strap, and lots of interior organization space. It also has a built-in wallet and a removable wristlet.
Click here to see more on Amazon.
Let us know in the comment section below which Baggallin handbag you decide to add to your wardrobe! Before you go, make sure to check out these other helpful style guides:
Where To Buy Handbags [Top 30 Online Stores]